General Surgeons Of Western Colorado
1001 Wellington Ave
Grand Junction, CO 81501
(970) 243-0900
(970) 245-4235 fax
map

Professional Bio
Dr. Hanly did his pre-medical studies at the University of Wyoming where he was a Barry M. Goldwater Scholar, was inducted into both Phi Beta Kappa and Phi Kappa Phi National Honor Societies, and where he earned a Bachelor of Science with Honors in Chemistry, being selected as the American Chemical Society Graduating Senior of the Year, winning the T.S. Harris Outstanding Premedicine Student Award, and being named one of the top 20 graduates of the University of Wyoming College of Arts & Sciences.
Dr. Hanly attended medical school at Johns Hopkins University where he studied the benefits of laparoscopic surgery under the tutelage of Dr. Mark A. Talamini. Dr. Hanly's research eventually contributed to the understanding that the carbon dioxide gas used to inflate the abdomen during laparoscopic surgery influences the function of the body's white blood cells in such a way that the body experiences less inflammation during minimally invasive surgery than during conventional open surgery. This work was rewarded by the National Institutes of Health in the form of an R01 grant that funded Dr. Talamini's research on the basic science of laparoscopic surgery.
Dr. Hanly served for five years as an officer in the United States Air Force during which time he completed his General Surgery Internship at Keesler Medical Center where he won the Paul W. Myers Society of Air Force Clinical Surgeons Award for Excellence in Research for his work on the basic science of minimally invasive laparoscopic surgery. He completed his military service at Andrews Air Force Base where he was appointed Instructor in Surgery at the Uniformed Services University, Director of daVinci Surgical Robotic System Training at Walter Reed Army Medical Center, and Research Fellow at the European Institute of Telesurgery, Université Louis Pasteur in Strasbourg, France, where, under the direction of Professor Jacques Marescaux, he investigated the use of minimally invasive surgical robots to remotely treat soldiers wounded in battle. During his active duty service, among other decorations, Dr. Hanly was awarded the Global War on Terrorism Service Medal, and the Air Force Commendation Medal for Meritorious Service, and he won the United States Air Force Surgeon General's Award for Excellence in General Surgery Research twice.
Although selected for promotion to the rank of Major, Dr. Hanly instead chose honorable discharge from military service to accept a position in the General Surgery Residency at the Johns Hopkins Hospital where, among others, he was mentored by Dr. John L. Cameron in pancreatic surgery, Dr. Julie A. Freischlag in vascular surgery, Dr. Michael R. Marohn in laparoscopic colon surgery, and Dr. Martha A. Zeiger in endocrine surgery (thyroid, parathyroid, and laparoscopic adrenal gland surgery). During residency, Dr. Hanly was selected as one of two residents in his class to serve as a Registrar at the Royal College of Surgeons in Ireland where he studied surgery for esophageal cancer under the direction of Mr. Patrick J. Broe, MCh, in Dublin, Ireland. During his tenure at Johns Hopkins, Dr. Hanly served as a member of the Housestaff Council and as a member of the hospital's Patient Safety Committee, was awarded the Baltimore Academy of Surgery Resident Abstract Award, the American College of Surgeons Forum on Fundamental Surgical Problems Resident Excellence in Research Award, and the Mark M. Ravitch Award for Excellence in Scientific Writing, and was honored by his nursing colleagues with a Johns Hopkins Hospital Hand Hygiene Superstar nomination as well as the Johns Hopkins Hospital Resident Award for Communication and Collegiality with Nurses.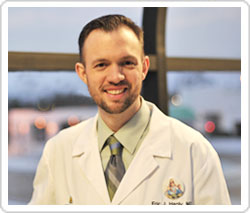 Dr. Hanly received advanced specialty training in Minimally Invasive Laparoscopic Gastrointestinal and Bariatric Surgery at Duke University where, among others, he was mentored by Dr. Eric J. DeMaria in bariatric surgery, Dr. Aurora D. Pryor in anti-reflux and single-incision surgery, and Dr. Theodore N. Pappas in laparoscopic pancreatic surgery. While at Duke, Dr. Hanly was appointed to the faculty as an attending general and trauma surgeon, as well as earning full bariatric surgery privileges at the Duke Center for Metabolic and Weight Loss Surgery.
Dr. Hanly is nationally recognized for his expertise in laparoscopic minimally invasive gastrointestinal and endocrine surgery, having served as a candidate member on the Board of Governors for the Society of American Gastrointestinal and Endoscopic Surgeons (SAGES), as a scientific session moderator at the SAGES annual meeting, as an instructor for SAGES-sponsored advanced laparoscopic surgery courses, and as a member of the SAGES Technology and Resident Education committees. Dr. Hanly is also a member of the American Society for Metabolic and Bariatric Surgery, and is a Fellow of the American College of Surgeons. He has served on the editorial board for the Journal of Surgical Education and as an expert reviewer for the Journal of Surgical Radiology, the Journal of Laparoendoscopic and Advanced Surgical Techniques and Surgical Endoscopy. Dr. Hanly has published more than 100 scientific articles, abstracts, and book chapters, has given more than 80 presentations at national and international universities and medical society meetings, and has authored six federally-funded grants garnering more than $4,500,000 in research support for minimally invasive and robotic surgery research.
Dr. Hanly has performed more than 2,000 surgical procedures in the fields of bariatric, advanced laparoscopic, single-incision, robotic, and general surgery for both cancerous and non-cancerous conditions. He is Board Certified by the American Board of Surgery and holds active medical licenses in the states of Colorado, Utah, and North Carolina. Dr. Hanly holds an appointment as an Assistant Clinical Professor of Surgery at the University of Colorado School of Medicine in Denver, and is a member of General Surgeons of Western Colorado in Grand Junction, where he offers advanced laparoscopic and robotic minimally invasive surgical treatments for cancerous and non-cancerous gastrointestinal and endocrine diseases.  Dr. Hanly offers bariatric surgical procedures through the St. Mary's Hospital Bariatric and Metabolic Surgery Center, of which he is the Medical Director.
To make an appointment with Dr. Hanly please call General Surgeons of Western Colorado at 970-243-0900. For patients interested in bariatric surgery with Dr. Hanly, please call the St. Mary's Hospital Bariatric and Metabolic Surgery Center at 970-298-6400.